Hawaiian Quilting Classes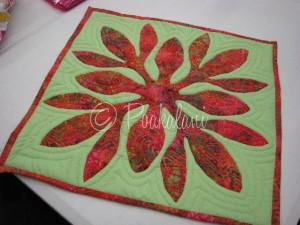 While our home at the Iolani Palace is being renovated you can find us at the Ohana Hale Market Place  on Ward Avenue ( The Old Sport's Authority location next to Ross.   333 Ward Avenue #3.  Classes are every Saturday 9:30am – 11:30am.  
Classes are held every Saturday at the Iolani Palace Old Archives 9:30am – 12:00pm.  Only $6.00 per class.  New Students First Class is $15.00 thereafter only $6.00

New Quilters all you need is two pieces of fabric 5/8 yards of contrasting colors.  One for the design and the other for the backing.  (Please pre-wash your fabric) Matching thread and needles.  We will have two patterns for you to choose from the Ulu and Ti or if you would like another design just call me.  Or bring the current project you're working on. Call 808-223-1108 or email cissy at cissy@poakalani.com to Register for class.  
The Quilters

They come from all over the State of Hawaii, the Mainland USA, Japan, Canada, Australia and around the world.  Their love for quilting makes them special.  There love for Hawaiian quilting is a gift to our culture.  They are the true keepers of our traditions.  Thank you to all the quilters who quilt Hawaiian.