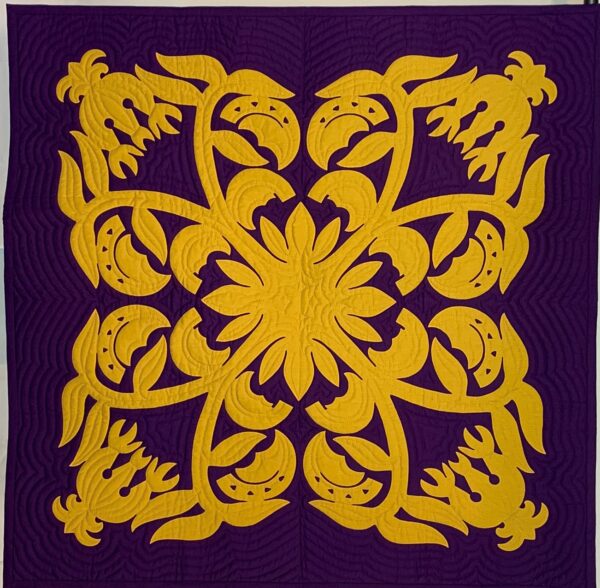 Poakalani Hawaiian Quilt Exhibit
May 31, 2022
OHA Office of Hawaiian Affairs
560 N. Nimitz Hwy Suite 200
Honolulu, HI 96817
10:00am – 2:00pm
Poakalani Hawaiian Quilts in conjunction with the Office of Hawaiian Affairs would like to invite all of your to a special 1 day Hawaiian Quilt Exhibit being held at the Office of Hawaiian Affairs. After a 2+ year wait 14 Hawaiian quilts 45″ x 45″ will finally be handed over to the Pitt Rivers Museum of Oxford, England. The quilts were commissioned back in 2020 but due to Covid-19 it took a little longer for the quilts to be completed. The quilts will be received by Marenka Thompson-Odlum – Research Associate of the Pitt Rivers Museum. This will be the only showing in Hawaii before they will have a permanent home in Oxford, England.

All the quilts were designed by the late John Serrao and quilted by selected Poakalani Quilting Teachers and students. The quilt designs conveys the culture and traditions of Hawaii.
Please come and help us celebrate another milestone of sharing our unique art to the people of the Pitt Rivers Museum in Oxford England. Any concerns please contact Cissy at 223-1108
The Office Hawaiian Affair asks that masks be worn and if possible a pre-check in if you're planning to attend. OHA is located on Nimitz Highway, before City Mill, across from Nimitz Liliha Bakery and Little Joe's Steakhouse. Please see the flyer below for instructions.