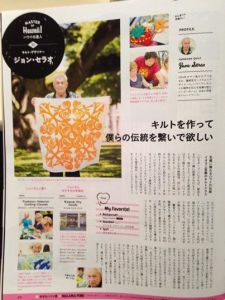 Aloha Amazing Quilters and Friends,
I know I haven't posted in several days but I'm trying really hard  to get my pattern shop back on-line, which is causing a few problems.  Hopefully by the end of this month.  Also I'm afraid I got stuck watching a Korean Drama on Hulu.  I love my Korean Drama's.  Good news  I'm done with the drama and they all lived happily every after.  So back to to my website and posting.
Also see the attached photo of  "Awesome John" in the Japanese "Frau" magazine. We're so proud of him and all he does for the class and of course Hawaiian quilting.
Cissy